Xilisoft DVD Ripper Ultimate
Product :

DVD Ripper

License :

Free Trial;

Price :

$55.95

OS Supported :

Microsoft Windows XP (SP2 or later), Windows Vista, 7

Size :

20.66

MB

Date Added :

2009-04-22

Support :

+86-10-82606500; support@xilisoft.com
Overview
Put DVD movies on iPod, iPhone, Apple TV, PSP, Zune, mobile phone, etc. with Xilisoft DVD Ripper to have a joyful movies journey from now on. As multifunctional, fast and easy to use DVD ripping software, Xilisoft DVD Ripper can rip DVD to AVI, convert DVD to MPEG, rip DVD to WMV, DivX, MP4, H.264/MPEG-4 AVC, RM, MOV, XviD, 3GP, MP3, WMA, WAV, RA, M4A, AAC, AC3, OGG, and more video/audio formats.
The DVD rip software lets you clip video segment, merge several into one and split one into several to make flexible output, and also brings you amazing tools to create stylish videos in the way of cropping size, editing effects, adjusting subtitle and adding watermark. Now, start to rip DVD with Xilisoft DVD Ripper, share and enjoy DVD movies and music taken on your multimedia devices.
Rip DVD to AVI, MPEG, WMV, DivX, MP4, H.264/AVC, etc.
Extract audio from DVD as MP3, WMA, WAV and suchlike formats
Convert DVD to iPod, iPhone, PSP, mobile phone, MP4 players
Capture pictures from DVD movies to save as JPG, BMP image
Key Features
Rip DVD movie with fastest speed
Rip DVD to videos, audios and pictures for enjoying on diverse multimedia devices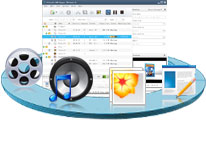 Rip DVD to video and audio in all formats
Easily take enjoyment in DVD movies and music by ripping DVD to AVI, MPEG-1/MPEG-2/MPEG-4, WMV, DivX, MP4, H.264/AVC, RM, MOV, M4V, XviD, 3GP, VOB, FLV, SWF and such video formats, and extracting DVD audio to save as audio formats like MP3, WMA, WAV, RA, M4A, AAC, AC3, OGG, AU.
Grab pictures from DVD
Xilisoft DVD Ripper also can capture pictures in JPG, PNG, GIF and BMP formats from DVD movies at fixed interval.
Get disc info online
Automatically retrieve DVD movies information from Internet while loading disc to help you label film name, director, actors/actresses, DVD titles and chapters.
Fast DVD ripping speed offered
You'll get super fast speed to rip DVD movies with Xilisoft DVD Ripper, and the DVD ripping speed will be promoted with the performance increase of your CPU.
Clip, merge and split
Make DVD movies into custom files in your way by clipping, merging or splitting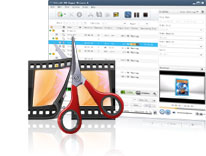 Merge several files into one
With several files or clipped segments merged into one file for output, you'll enjoy a single long movie with a single click.
Clip segments
Easily clip any segments you favor in any time length with the DVD Ripper software, and also merge several segments into one at will.
Split one file into several
Set split time or size to split one source file into several when ripping DVD, to make the files totally fit your device.

Video effect editor to create stylish video

Wow your friends with amazing video of custom frame size, effect, subtitle, watermark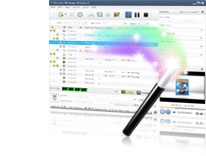 Crop frame size
Easily scissor off the unwanted area by drag-and-drop or simple settings to reserve the highlights only.
Edit display effect
The DVD ripper can change the brightness, contrast and saturation to adjust the display effect of your movies to the best, and add artistic effect like "Old film", "Gray" to make your movies more stylish.
Adjust subtitle
The position, transparence and font style of your movie subtitles are not favorable enough? The DVD rip software can change them to make the subtitle more suitable for your watching.
Add watermark
Mark your movies by adding picture or text watermark and adjusting its position, transparence and size.
Preview and compare
Wanna see the effect after editing? Just compare the fixed video with source video to check whether the effect is satisfying.

Optimized profiles and handy output

A large number of options provided to facilitate and diversify your output
Luxury, optimized profiles
The profiles are so luxury, and optimized for iPod, iPhone, PSP, PS3 and such digital devices that you can definitely find the one that fits you most.
Clone title
You may want to rip DVD to multiple files with different clips, effects or settings, now you get this function to assist you in Xilisoft DVD Ripper.
Rip one DVD to several files
Set several formats for one DVD and click one button to rip DVD to several files effortlessly at one time.
Customize file size with Bitrate Calculator
Always have trouble with outputting fitted file size with your player? Using Bitrate Calculator of the DVD Ripper, getting file with the size you want is just a breeze.
Expert settings
Much more settings are available to adjust now, of which the expert-level settings multiple your output choices.

Batch conversion and top quality

Better quality, easier operation and handier settings to let you enjoy DVD ripping jobs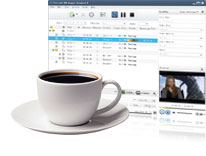 Faster, handier and better
The support for multithreading and batch process makes your DVD ripping faster and handier, while the top quality of Xilisoft DVD Ripper makes your watching and listening more colorful.
More extras
Besides so many functions, the DVD Ripper software presents more extras to you: edit ID3 tag, run the program in background, check for updates automatically, offer multiple skins and languages, etc
References
iPod, iPod nano, iPod classic, iPod shuffle, iPod touch
iPhone, iPhone 3G, Apple TV
PSP, PS3
General 3GP mobile phone, BlackBerry, etc.
General MP4 players: Archos, Creative Zen, iRiver, etc.
Window Mobile device: Pocket PC, Dell Axim X51, HP iPaq hw6500 series, etc.

Input File Format Support

DVD-Video, DVD folder, DVD IFO file, ISO image file

Output File Format Support

Video

AVI, MPEG, WMV, MP4, FLV, H.264/MPEG-4 AVC, DivX, XviD, MOV, RM, ASF, MPEG-1, MPEG-2, MPEG-4, Super Video CD Format, Video CD Format, VOB MPEG2 PS Format Audio

MP3, WMA, AAC, WAV, OGG, RA, M4A, AC3, MP2, AMR, SUN AU Format

Image

BMP, GIF, JPEG, PNG
System Requirements
Microsoft? Windows XP (SP2 or later), Windows Vista

Processor:1GHz Intel/AMD processor or above

RAM:256MB RAM (512MB or above recommended)

Free Hard Disk:30MB space for installation

Graphic Card:Super VGA (800600) resolution, 16-bit graphics card or higher

Others:DVD-ROM drive
Why Use DVD Ripper?
What is DVD?
DVD (also known as "Digital Versatile Disc" or "Digital Video Disc") is a popular optical disc storage media format. Its main uses are video and data storage.
What are the disadvantages of DVD?
Vagueness of the DVD specification and inadequate testing of players and discs has resulted in incompatibilities. Some movie discs don't function fully (or don't play at all) on some players.
DVD recorders are more expensive than VCRs.
DVD has built-in copy protection and regional lockout.
DVD uses digital compression. Poorly compressed audio or video may be blocky, fuzzy, harsh, or vague.
The audio downmix process for stereo/Dolby Surround may reduce dynamic range.
DVD doesn't fully support HDTV.
Some DVD players and drives can't read CD-Rs.
Some DVD players and drives can't read recordable DVDs.
Most DVD players and drives can't read DVD-RAM discs.
Very few players can play in reverse at normal speed.
Variations and options such as DVD-Audio, DVD-VR, and DTS audio tracks are not supported by all players.
Why Use DVD Ripper Software?
To protect DVD disc from scratches
To share DVD movies with friends
To watch DVD movies on other MP3/MP4 players like iPod, touch, iPhone, etc.
And more?
Why can?t I copy DVD to my hard drive?
Almost all movies are encrypted with CSS copy protection. Decryption keys are stored in the normally inaccessible lead-in area of the disc. You'll usually get an error if you try to copy the contents of an encrypted DVD to a hard drive. However, if you have used a software player to play the movie it will have authenticated the disc in the drive, allowing you to copy without error, but the encryption keys will not be copied. If you try to play the copied VOB files, the decoder will request the keys from the DVD-ROM drive and will fail. You may get the message "Cannot play copy-protected files".
How to copy DVD to hard drive or rip and convert DVD movies to other video format files?
Keep in mind that unless you are copying something for your own personal use from a DVD that you own, copying a DVD is usually a copyright violation, which is illegal and dishonest.
DVD ripper software is the best way to copy DVD to computer hard drive or convert DVD movie to other video file formats for personal use.
What to look for in DVD Ripper Software?
DVD Ripper software performs two functions, including DVD ripping and converting. The best DVD ripper software should rip all kinds of DVD formats such as DVD disc, DVD folder and DVD image files and work with a wide range of formats including those utilized by online video sharing sites and those compatible with portable devices like iPods, iPhones and PSPs.
Below are some criteria to evaluate DVD ripper software:
Ease of Use
Features Set
Output Video Quality
Ripping Speed
Screenshots